Regasification project developers and infrastructure owners are pushing back against what they see as regulatory barriers hindering development of Brazil's gas market ahead of the pro-competition New Gas Law coming into force later this year. Despite some hopeful signs and a few successes, the degree of regulatory uncertainty associated with both the old and new regimes continues to be felt and the future of gas is being debated as renewables increasingly dominate new capacity auctions.
Petrobras' control of gas pipelines and LNG terminals stand out as barriers, but less obvious legal ambiguities governing gas distribution and transportation continue to prevent LNG suppliers from contracting industrial demand. Industry takes slightly more than half the country's domestic and imported Bolivian gas but pays much higher prices of around $11/MMBtu compared to state-subsidized thermal plants at $3-$4/MMBtu. Little LNG supply currently feeds industry owing to a lack of third-party pipeline access rights. Moreover, Petrobras' track-record of diverting gas supply in drought years from industry to thermal plants has discouraged reliance on the state oil and gas company. Of course, under the New Gas Law, the Brazilian market should, in the next few years, see a diversification of players and decentralization of fuel supply sources.
The process has already begun following Engie Brasil's $8.8 billion acquisition of the 4,500-km (2,796-mile) coastal TAG gas pipeline from Petrobras and the start of Hygo Energy Transition's (formerly Golar Power) 1.5-GW Sergipe LNGto-power complex last year. Hygo is a 50:50 joint venture between Golar and Stonepeak Infrastructure Partners. Engie and Hygo are in talks to link Sergipe into TAG via a new 24-km (15-mile) pipeline allowing the project to supply gas to end users on the grid rather than relying exclusively on thermal demand. Hygo's 50:50 partner in Sergipe is domestic power player EBrasil.
Ill-defined rules and high pipeline tariffs remain a risk. State gas distribution monopolies can apply a fee of $1.5/MMBtu for every new entry point to be connected, which has caused power developers to shun the option. The absence of clear rules has deterred companies looking to transport gas to end-users. This has also stymied gas market development since distributors cannot supply adjacent states, restricting the inter-state trade in gas. Anyone wishing to inject gas in Sergipe to sell in Bahia state, for example, would need to do so via an entirely new, and expensive, transportation pipeline. To get around this, Engie Brasil, oil and gas regulator ANP and the Sergipe owners plan to designate some capacity on existing pipelines, including future expansions, for transportation to neighbouring states.
Brazil LNG-to-Power Projects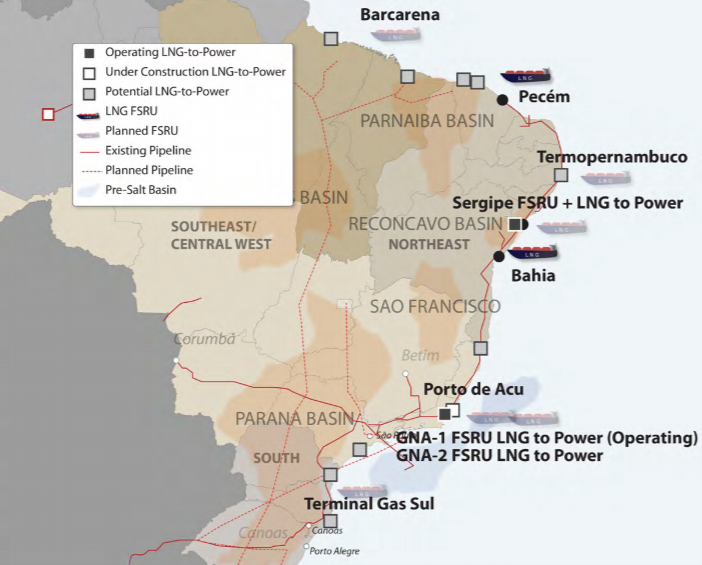 Engie is also talking to four other regasification project developers along similar lines, including Prumo Logistica, BP and Siemen's 3 GW Gas Natural Acu LNG-to-power project. TAG's early-stage pipeline capacity allocation process began in February with transportation services offered from 2023.
There are around ten credible regasification project proposals on the table in Brazil, concentrated in the south, but current levels of thermal demand cannot support all of the new capacity. Gas market development is therefore key to continued growth but Petrobras' enforced withdrawal from such activity – via mandated sales of its gas pipeline, terminal, and state distribution monopolies – has left a vacuum that exploration and production companies and LNG suppliers may fill.
The New Gas Law being debated in the Senate, and due to pass later in 2021, should further liberalize access, clarify rules for transporters, and reduce pipeline tariffs by switching to an entry-exit model based on the network's gas injection and withdrawal capacities. Multiple layers of taxation by the different states also increase end-user prices, which the new law also aims to address. Legislators and industry watchers hope reforms will reduce domestic gas prices by up to 40% by 2022.
Source: Poten & Partners
Follow on Twitter:
[tfws username="PotenPartners" height="700″ width="350″ theme="light" color="#FAB81E" tweets="2″ header="yes" footer="yes" borders="yes" scrollbar="yes" background="yes"]